Concerned Citizens of Cattaraugus County, Inc.


March 12, 1999, and updated

The Facts on Fresh Kills: New York City must close its landfill by 2002 and wants to send its garbage upstate. UPDATED

The Threat from Flow Control Legislation: States already burdened by garbage exports from New York City ask Congress to stop the flow across state lines.

  Follow the history of western New York's


struggle to save its land, water, and air

as the gap between rural and urban

waste reduction rates widens
Comments on scope of the proposed Farmersville landfill project were accepted by  the DEC up to April 14, 1999.  For a brief description of what happened at the March 24 public scoping meeting,
click here
.

1995 Audit of the Town of Farmersville:  State Comptroller Carl McCall's office found mismanagement, mishandling of Town funds, and what appears to be an excessive amount of compensation provided their attorney by the Town Board. You can get a full-text copy of the audit from the Comptroller's web site, via a link in this article.

Report of the NYC Fresh Kills Task Force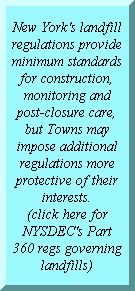 Has your membership expired? Click here for our Contributions & Membership Form . . .
" Mayor Rudolph W. Giuliani and Gov. George E. Pataki should declare a waste management emergency, challenging New Yorkers to reduce waste production and step up recycling efforts. Otherwise, there will be dire consequences for the city's budget, environment and land-use practices."

--Manhattan Solid Waste Advisory Board Chairman Robert Roistacher, NY Times letter to the editor, 8/5/99.