TULLYTOWN is probably not a place many Long Islanders have ever heard of, much less visited. But the community, a small borough in Bucks County, Pa., on the Delaware River north of Philadelphia, does the Island a big favor every day. It accepts truckloads of a growing Long Island export: garbage.
There is nowhere left on the Island to put the stuff. No municipal landfills: the last closed in the early 1990's under a 1983 state law meant to protect groundwater. No capacity remains at the four major incinerators, which are able to burn less than half the Island's total. Recycling is barely holding steady or is declining, while total garbage production per person is rising.
As a result, without much noticing it, Long Island is becoming more and more dependent on long-haul trucks carrying mountains of detritus off to private landfills like Tullytown's.
What began 20 years ago as a trickle of outbound garbage, including the famously unwelcome bargeful from Islip that became a national joke in 1987, has grown to more than a million tons a year.
Red flags are beginning to go up about the Island's dependency on exporting its trash. Rising transportation costs, escalating tipping fees and the threat of growing competition, particularly from New York City, for scarce dumping space at private landfills in states like Pennsylvania, Ohio and Virginia may soon push up garbage taxes and fees across the Island.
According to the Waste Reduction and Management Institute at Stony Brook University, roughly one-quarter of Long Island's municipal solid waste now hits the road. Some 40 to 45 percent is incinerated on the Island, and about one-third is recycled.
For the moment, the Balkanized solid-waste management system that has evolved in Long Island's 13 towns and two cities seems to be working, built on an assortment of municipal sanitation departments, independent sanitation districts, local carting companies and major corporations.
And even at the current cost of about $85 a ton to get garbage off the Island, exporting it remains cheaper and less politically fraught than building new incinerators would be.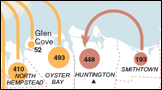 Still, some who follow the ebb and flow of Long Island garbage see trouble brewing.
"Right now, today, we are doing well, and that's part of the problem in a sense," said Larry Swanson, the institute's director. "Everybody is comfortable. But things may be about to unravel."
Mr. Swanson and others who analyze Long Island garbage issues warn that New York City, which has been exporting all its garbage since the Fresh Kills landfill on Staten Island was closed in 2001, may outbid rivals and monopolize nearby private landfill space and incinerator capacity. That could leave Long Island having to ship garbage to more distant landfills, at greater cost.
While the flow of garbage is a protected form of interstate commerce that cannot be blocked without Congressional action, states that don't like being on the receiving end can impose higher fees, tighten truck inspections and otherwise discourage out-of-state haulers and waste management companies, putting another cloud of uncertainty over Long Island's garbage exports.
And matters could grow worse, as several important on-Island waste disposal agreements expire in the next few years.
One is the deal between the Town of Hempstead and Covanta Energy of Fairfield, N.J., to burn Hempstead's residential garbage at Covanta's American Ref-Fuel incinerator alongside the Meadowbrook Parkway in Westbury, by far the largest on Long Island. The plant, which produces 72 megawatts of electricity using the heat from incineration, is licensed to handle 914,315 tons a year.
Another is the trash-for-ash agreement between Hempstead and the Town of Brookhaven. The Westbury incinerator accepts Brookhaven's garbage along with Hempstead's, in exchange for Brookhaven's accepting all the incinerator's ash at a state-licensed ashfill in Yaphank, one of two on Long Island (the other is in Babylon).
Both agreements expire in 2009. Covanta, which owns three of the four major incinerators in operation on the Island, would then be free to accept garbage from other bidders, perhaps including New York City.
"The problem is that if Hempstead fails for whatever reason to get a new agreement with Covanta, then it wouldn't have any place to put its waste," Mr. Swanson said. "And it wouldn't have a means to cut an intermunicipal agreement with Brookhaven." Both towns would have to turn to exporting their trash.
Kent Burton, a spokesman for Covanta in Washington, said the company "looks forward to engaging in conversations and negotiations with our current clients with an eye toward continuing our relationships."
Agreements between Covanta and three other towns have longer yet to run: Huntington's and Smithtown's expire in 2012, and Babylon's in 2018.
The Island's sole non-Covanta incinerator, in Islip, is owned by a town-sponsored entity and is managed by Montenay Islip, a private company, under an agreement that expires in 2010.
According to figures provided by Covanta, Long Island produces 4.6 million tons of solid waste a year. The company estimated that 1.9 million tons were recycled, 1.6 million tons were burned at the four incinerators and 1.1 million tons were shipped off the Island. Given the current trends, the company forecasts that the volume of exported garbage will rise to 1.25 million tons a year by 2010, requiring 62,500 truck trips annually and consuming 7.5 million gallons of fuel.
Covanta argues that statistics like these show why low-emission incinerators are a net benefit to the environment. But Mr. Burton, the Covanta spokesman, said the company did not plan to expand on Long Island.
In fact, Covanta is about to lose one municipal client. When Southampton Town's contract with Babylon to ship its trash to Covanta's incinerator there expires this month, the town will start exporting its trash instead, as the other four East End towns already do.
The upward trend in garbage exports is not solely a Long Island phenomenon. A report last year by the Congressional Research Service found that more than 30 million tons of municipal solid waste crossed state lines in 2003, up 11 percent from the year before.
But the breadth of movement of garbage off Long Island, orchestrated by local carters and transport companies and by industry giants like Waste Management Inc., the owner of the Tullytown landfill and the shipper for the Towns of Oyster Bay and North Hempstead and the City of Glen Cove, is still impressive.
The process starts when a truck rumbles along a residential street, picking up what homeowners have put out in cans, bags and bundles. Depending on the location, the truck and crew may belong to a town or village sanitation department, a public sanitation district, a carting contractor hired by the municipality, or a carter hired directly by the property owner. The crew may pick up at the curb or at the homeowner's back door.
Some trucks take their loads directly to an incinerator, but for most household garbage, the next stop is a transfer station, where it is loaded into trailers. In a few cases, the garbage may go onto a railroad freight car, a shipment method that appears to be expanding. But mainly it moves by truck.
The long-haul trucks, with their high-sided trailers covered with tarpaulins or their flatbed loads of bailed refuse, are easy to spot on the highway and have never been more numerous. "I can just sit there and count them, and there's a lot of trucks out there carrying waste one way or the other," said James H. Heil, who has been a commissioner in charge of refuse for both Hempstead and Brookhaven towns and who helped put together the trash-for-ash deal.
Mr. Heil said he doubted that any new incinerators would be built on Long Island soon. "They are very costly, and it's difficult for them to compete with off-Island hauling and landfilling," he said.
Moreover, obtaining permits and building an incinerator take years, even if no one objects to the location, and on Long Island, community opposition would be a certainty. Residents of Port Washington reacted so negatively to a proposal for North Hempstead to build an incinerator near Bar Beach in the 1980's that they drove the longtime Republican town administration from office in the next election, and the town party has yet to recover.
Meanwhile, Long Islanders are throwing out more and recycling less, according to a study by the Rauch Foundation of Garden City, part of its Long Island Index project. Using data for Hempstead, East Hampton and the five townships of western Suffolk, the study found that total residential waste had risen to 5.2 pounds a day in 2003 from 4.9 pounds the year before, while recycling fell to 0.81 pounds from 0.86 pounds in 2002.
Mr. Swanson, one of four authors of the report (Mr. Heil was another), said the figures seemed to suggest a waning of the recycling ethic on Long Island. Recycling also rarely pays for itself, he said, because markets for recycled materials are spotty.
When commercial waste is included, the study found, Long Island throws out 7 pounds of garbage a day per person, much more than the national average of 4.3 pounds - a reflection of Long Island's standard of living.
"In general, affluent areas produce more waste than those areas that are less affluent, because they tend to buy new goods, versus repairing old or broken objects, and purchase more goods, therefore generating more garbage from packaging," the report said.
For the privilege of throwing away so much, residents pay widely varying amounts in taxes or fees for a bewildering array of collection and disposal systems.
In Hempstead, for example, incorporated villages, the town's five independent sanitary districts and the town itself are each responsible for picking up about one-third of the town's garbage, and they charge different amounts for the service, even though it all winds up in the same place, the Westbury incinerator.
Audits of three of the sanitary districts this year by the Nassau County comptroller, Howard S. Weitzman, found a host of problems, from shoddy record keeping to wasteful practices, that resulted in high tax levies for district residents.
"As a former village mayor, I was stunned to find people in Hempstead paying $900 a family per year, when I know we were delivering a higher level of service to our residents for about $300 a year," said Mr. Weitzman, who is a former mayor of Great Neck Estates.
He said the worst problems were in District No. 1, covering the Five Towns and part of Valley Stream. The report his office released in September listed extravagant spending for travel and meals, poor or nonexistent timekeeping and unexplained cash payments, compounded by "an unprecedented lack of cooperation" from the district. The audit calculated that residents paid an average of $873 a year for garbage pickup and disposal for each property in the district, almost triple what some other Island communities pay.
The state comptroller, Alan Hevesi, announced in October that his office would examine all five Hempstead districts for possible abuses of the state pension system, and would comprehensively audit District No. 1. The Nassau district attorney's office is also investigating District No. 1.
Nathaniel M. Swergold, who has been the district's general counsel since 1972, said it had nothing to hide and would be exonerated. "At the end of the day, they will say they will implement safeguards, but that they have not discovered any fraud or that there is anything missing," Mr. Swergold said. "That is going to be the end result."
Mr. Swergold said Mr. Weitzman, a Democrat, had undertaken a politically motivated attack on the district, whose commissioners are Republicans. The district's higher costs, he said, reflected a high level of service, including frequent back-door pickups.
Mr. Weitzman's audits also identified high costs and lax work practices in District No. 6 (West Hempstead and nearby areas), where residents pay $798 a year for each property on average.
In District No. 2 (Baldwin, Roosevelt and South Hempstead) and in the Syosset Sanitary District in the Town of Oyster Bay, Mr. Weitzman said that excessive administrative spending had driven up tax bills. On average, residents pay $734 a year for each property in District No. 2 and $656 a year in Syosset. By contrast, the figure was $603 for town-served areas of Hempstead and just $248 for the Port Washington Garbage District, where auditors found administrative spending to be well controlled.
On the East End, several towns have evolved entirely different approaches to garbage, more like rural areas' practices than those of the up-Island suburbs.
East Hampton has no municipal curbside pickup; residents can arrange for private carting service or pay $50 a year for a permit to dump their trash and recyclables at the town's two transfer stations.
In Southold, residents can pay by the bag - from 75 cents to $2.75 apiece for special yellow garbage bags of various sizes that are accepted at the town transfer station in Cutchogue - or hire a private carter. "Each household is in a position to regulate their own expense," said the town supervisor, Joshua Y. Horton. Bag systems also operate in Southampton and Shelter Island.
In many of the more western towns, a garbage levy is included in the town property tax, so the cost depends on property value. The owner of a typical $400,000 home in an unincorporated area of Oyster Bay, for example, would pay $278.80 a year for garbage pickup and $116.42 for disposal, or $395.22 in all, the town said. But Islip charges a flat annual fee, currently $459 for each household.
Costs vary in part because the level and frequency of service varies; they also depend, crucially, on the off-Island dumping rates and incinerator tipping fees prevailing when service contracts are signed. Aggressive bidding by New York City could make those costs much higher in coming years.
Whatever Long Island residents pay, their garbage is unlikely to be welcomed when it goes to another state. "Obviously, we are not happy to have other people's waste dumped in our state," said Mike Ewall, the director of ActionPA, a nonprofit group in Philadelphia that promotes recycling. "And by exporting waste, Long Island is doing itself a disservice, because that waste really represents a wealth of materials that could stay in the community and be recycled, and create a lot of jobs."